POP UP DISCUSSIONS
Our Pop Up Discussions bring together students to discuss current issues of poverty and inequality with an expert in the field, provide a space to ask research and professional development related questions, build connections with peers and faculty with similar interests, and avenues to continue their engagement.
01/25/2021: Caste, Racism and Systems of Inequality in the U.S. and Abroad
This Pop-Up centered around Pulitzer prize winning journalist Isabel Wilkerson's book, Caste: The Origins of Our Discontents. Our discussion featured two UCSB faculty members: Associate Professors Jean Beaman and Amit Ahuja. Dr. Beaman is an Associate Professor of Sociology, whose ethnographic research is centered around race relations in France and the United States. Dr. Ahuja is an Associate Professor and Director of Graduate Studies for Political Science, whose research is focused on the processes of inclusion and exclusion in multiethnic societies. 
Our speakers shared their perspectives on the strengths and limitations of using Wilkerson's caste framework to understand racial inequality, and strategies to fight against it, in the United States and abroad. This enlightening discussion touched on multiple themes, including how the structural forces behind caste systems and democracy can co-exist, and what would constitute an ending of the caste structure, racism, and other systems of inequality.
Previous Pop-Up Discussions have focused on such topics as: activism and social movements, prison abolition, intersectional feminism and gender inequality, residential re-segregation, reproductive justice, international development and participatory democracy, class inequality on college campuses, agricultural production/consumption and migrant rights, as well as houselessness and housing rights. If you are interested in a summary of any of these discussions, please contact Blum Center Academic Coordinator, Joanne Nowak (joanne.nowak@ucsb.edu).
PUBLIC FORUMS
Our Public Forums highlight local action and community leaders working to advance intersectional justice on a given theme, foster public discussion about different appoaches to social change, and spotlight ways to get involved locally.
02/24/2021: The Green New Deal in Action Forum
Featuring presentations from youth, campus and community leaders sharing concrete examples of the Green New Deal in practice at the federal, regional and local level, the aim of the Blum Center's second public forum on the Green New Deal sought to deepen our conversation about how effective the Deal has been, discuss its promise to help plan for a post-pandemic world, and examine how the current socio-political environment helps or hinders our collective ability to work towards transformational environmental and social justice.
This forum's guest speakers included UCSB affiliates Professor David Pellow, Chair of the Department of Environmental Studies and Nikayla Jefferson, graduate student of Political Science at UCSB and active member of the Sunrise Movement, as well as local community leaders Ana Rosa Rizo-Centino, current Executive Director of One Step A La Vez, and former Senior Organizer at Food and Water Watch/Action and Nadia Abushanab, Advocacy and Event Director at Santa Barbara County Action Network.
This event was co-sponsored by the Blum Center on Poverty, Inequality, and Democracy, the Fund for Santa Barbara, and Clergy & Laity United for Economic Justice Santa Barbara.
If you'd like more information about how to get involved in local efforts related to environmental and economic justice, and/or the Green New Deal specifically, please contact Joanne Nowak (joanne.nowak@ucsb.edu).
* * * * * *
10/24/2019: Buidling a Green New Deal: Community Coalition, and Organizing for Environmenal Justice: A Public Forum
This event brought together leadership and organizers from several local community organizations (e.g. Food & Water Action, Mixteco Indigena Community Organizing Project, and Central Coast Alliance United for a Sustainable Economy) to discuss how they are using/planning to use the Green New Deal as an organizing framework for economic and environmental justice. It also featured Professor of History, Alice O'Connor (and Director of the Blum Center), as well as Chair and Professor of Environmental Studies, David Pellow, who situated the Green New Deal historically, and provided an overview of its key components. The event was co-sponsored by the Interdisciplinary Humanities Center, the Blum Center, the Environmental Studies Program, the Fund for Santa Barbara, and the Central Coast Climate Justice Network.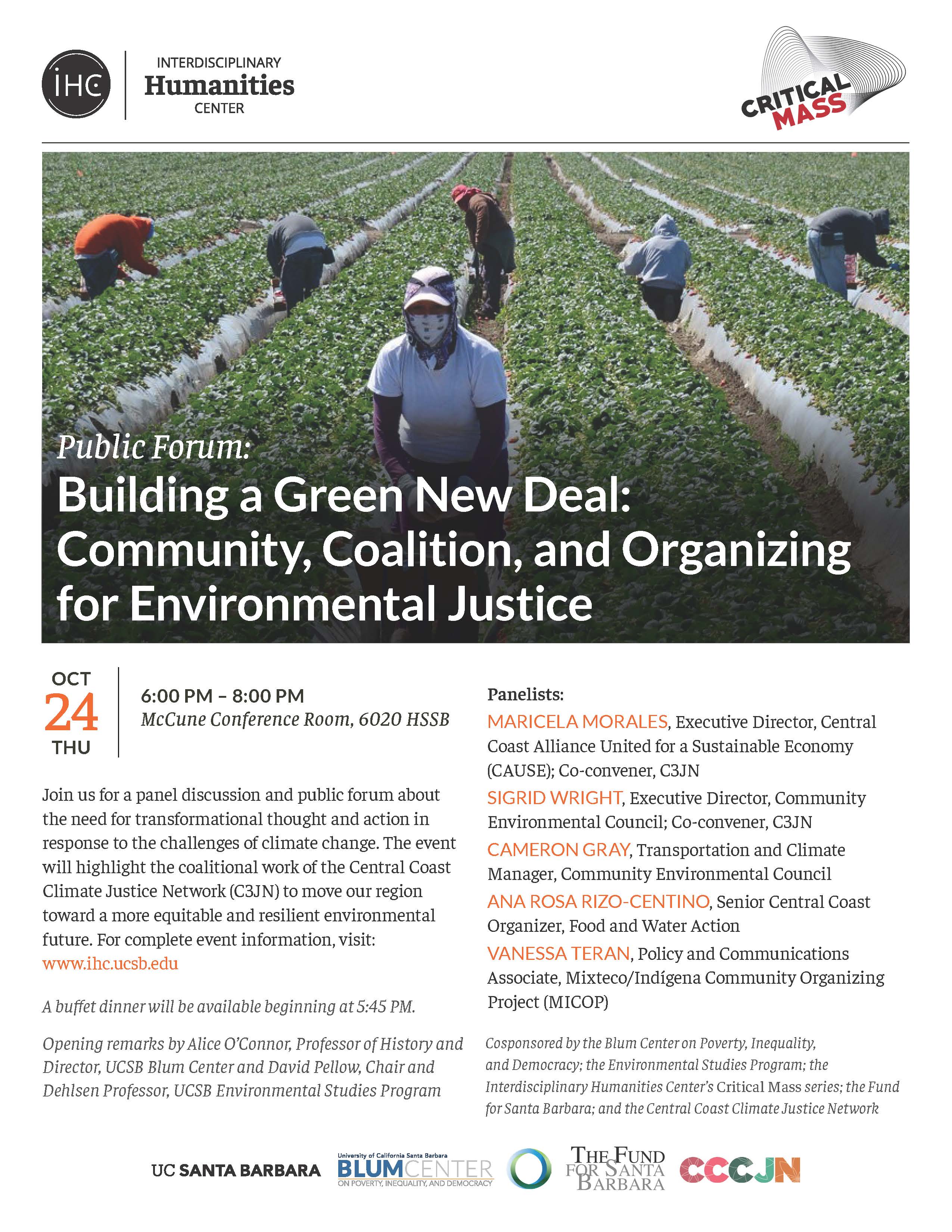 To access a recording of this event, please visit the Interdisciplinary Humanities Center here.