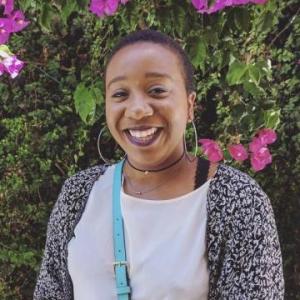 Blum Student Assistant
2021 Ph.D. Mechanical Engineering
Bio
:
What is one issue related to poverty and inequality that you think is most important right now?
As a black scientist, I abhor environmental racism and how it has only worsened with the drastic ramifications of climate change. I think college students should care about the environment and the planet, just like any other stewards of the Earth, and they should think about how it affects their peers that come from different backgrounds and upbringings from them. I think college students have a great opportunity to listen and educate themselves on how the way they live their lives can affect the environment, as well as the people that suffer the brunt of climate change's punishments. They can also listen to those affected groups, and use their privilege in powerful ways to support them, rather than speak for them.
What quote most inspires you to fight against social injustice?
"later that night

i held an atlas in my lap

ran my fingers across the whole world

and whispered

where does it hurt?

 

it answered

everywhere

everywhere

everywhere."

 

- Warsan Shire, "What They Did Yesterday Afternoon"